Dödsmässa

Dödsmässa (swedish word for Death Mass, Requiem) - The Dödsmässa Association is dedicated to arrange underground live masses/events/performances in Sweden.
We operate mainly around the city of Uddevalla and the surrounding area. Arranges so-called underground live masses/events that at the time of writing are private and closed - for members only!
All events are arranged completely non-profit (DIY philosophy) and if possible partly in collaboration with the performing constellations (bands/artists).
All events in Uddevalla at Kulturhuset Bastionen are arranged in conspiracy with Musikföreningen Adrian.
For more information, purpose and goals of the association, read more under "Information".
For rolling news and updates follow our instagram @dodsmassa and facebook page and join our facebook group (mainly in Swedish, but it's OK to write in English too).
Log of the latest important news
2022-04-19: Dödsmässa #3 (2022-10-01)
Performing constellations and exhibitors announced!
Razorvoid, Svältvinter, Sarcastic, Stigma Yuga, VVV, Phallosiris Art, Siborg, Growls From The Underground.
More info below...
2022-04-02: Second mass done!
Many thanks to all bands, exhibitors, diy forces, Musikföreningen Adrian and again all visitors!!

Now time to dwell in obscurity for a while and plan #3...

Read report from Dödsmässa #2 by Hinsides Publications.
2021-11-14: First mass done!
BIG THANKS to all bands, exhibitors, diy forces, Musikföreningen Adrian and above all, all visitors!!
You all support the underground scene and its art forms.
Dödsmässa #3 (2022-10-01)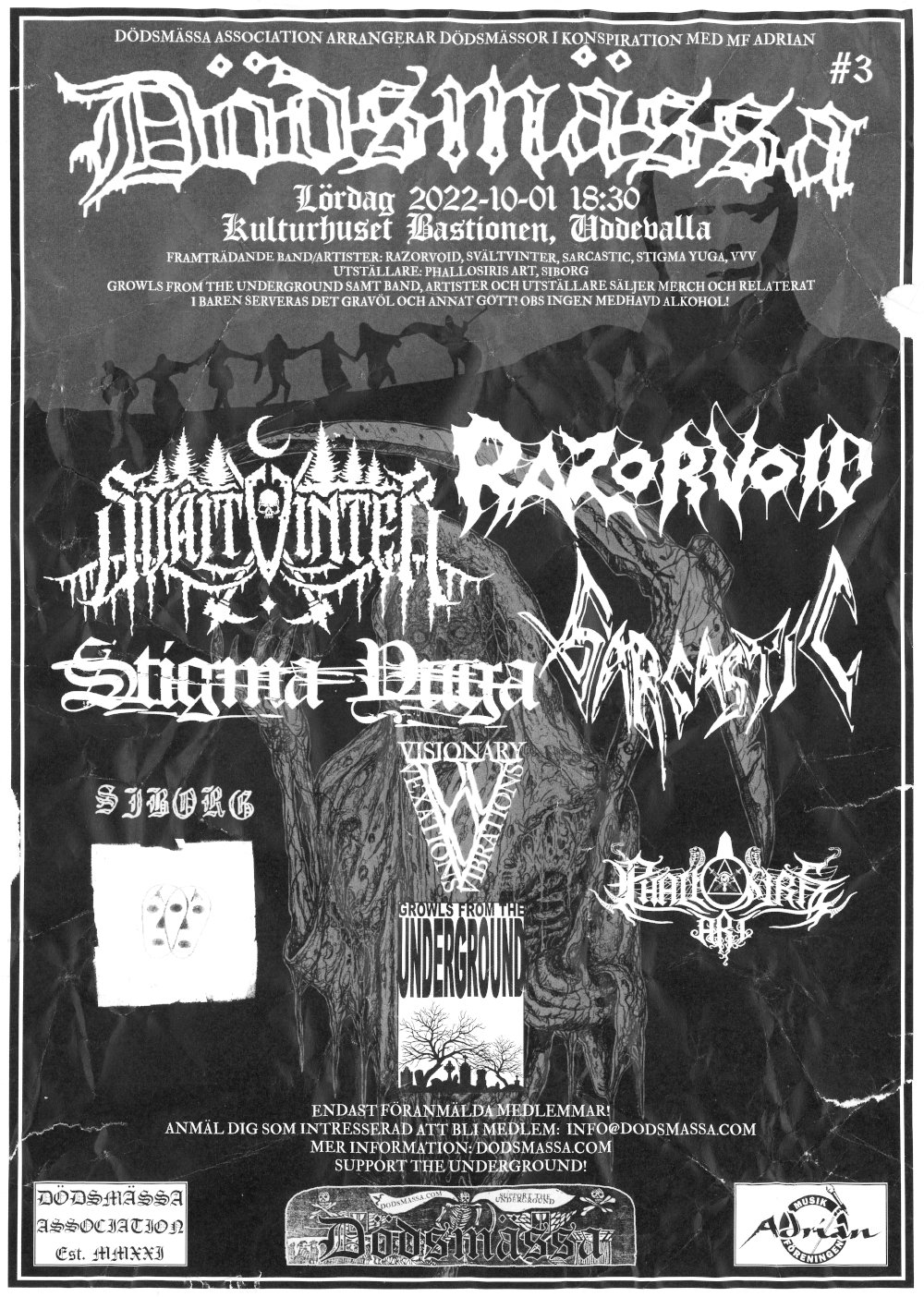 Performing constellations
Razorvoid
Svältvinter
Sarcastic
Stigma Yuga
VVV
Exhibitors
Phallosiris Art
Siborg
Growls From The Underground
Membership is required to attend at the mass! Contact: info@dodsmassa.com
Ancient masses
Dödsmässa #2 (2022-04-02): Kill, Voodus, Gravkväde, Obolus + Catharina Linnéa Artworks, ElegyPhotography, Growls From The Underground
Dödsmässa #1 (2021-11-13): Nekrosity, Death Reich, Vomitrot, Revenge Prevails + Eldhexan, Phallosiris Art, Growls From The Underground

How do you become a member to enter a Dödsmässa event?
Membership is unique per mass!! To become a member at a mass, send an inquiry via email to info@dodsmassa.com
If you have Shitbook, join the facebook group and follow our fb-page @dodsmassa and ig-account @dodsmassa!
Accomodation suggestions for members who are going to Dödsmässa #1 and/or #2
Closest hotel: Hotel Riverside, riverside.nu
Other hotels and hostels:
Hotel Carlia, carlia.com
Search booking.com (Uddevalla)
The purpose of Dödsmässa
The purpose of the association is to arrange small-scale closed private music and related artistic events. The core of the association and invited constellations* work together with activities around the events. The focus of the events is on so-called underground metal and dark ambient, but other genres and performances may occur. We like to see smaller local performing constellations* but are also open for other national and international performers in the future. The purpose is also for like-minded people to meet, but there should be openness for new interested people to join the association to discover the "art form" of Dödsmässa.
* other word for bands or artists
The goals of Dödsmässa
The goals of the association are that the events and other things that are arranged should go at least break even financially and the membership fees cover our expenses like rent and related costs. There is no profit motive, all money should go to the events. Should there be a surplus after all expenses have been covered, these must be included in future events. The goal is also to work for a live music scene in the above mentioned genres. A long-term goal is to arrange a multi-day festival.
Do you have a band or are you an artist who wants to perform at our masses?
Read the information on this page twice so you understand the concept, purpose and goals. Do this before contacting us please! At the time of writing, we do not have the finances to pay bands to travel here and arrange accommodation. It may change in the future, but this is the situation right now. We also do not have time with bands that do not fit our concept either. But otherwise you are very welcome to contact us to see if it is possible to make a collaboration.
Mail: info@dodsmassa.com
Instagram: @dodsmassa
Facebook page: facebook.com/dodsmassa
Facebook group: facebook.com/groups/dodsmassa